It's not difficult to find three unique Liverpool venues with kudos! Liverpool must surely be one of those cities that never strikes a blank. Such is the city's fame and kudos, you could travel the world mentioning Liverpool and people will instantly think Liverpool Football Club. They think The Beatles, John Lennon and Paul McCartney, Cilla and the Cavern, Crabbies Grand National and maybe even a ferry across the Mersey. This former European Capital of Culture is always exciting visitors with new cultural initiatives and exhibitions; from tall sailing ships at Albert Dock to the crowd pleasing Giants trilogy that passed through the streets of Liverpool. As a matter of fact, Liverpool City Council's culture team has been named the UK's number one event team and 15th in the world. It's a real accolade to them and shows what an exhilarating, exciting and vibrant city Liverpool is.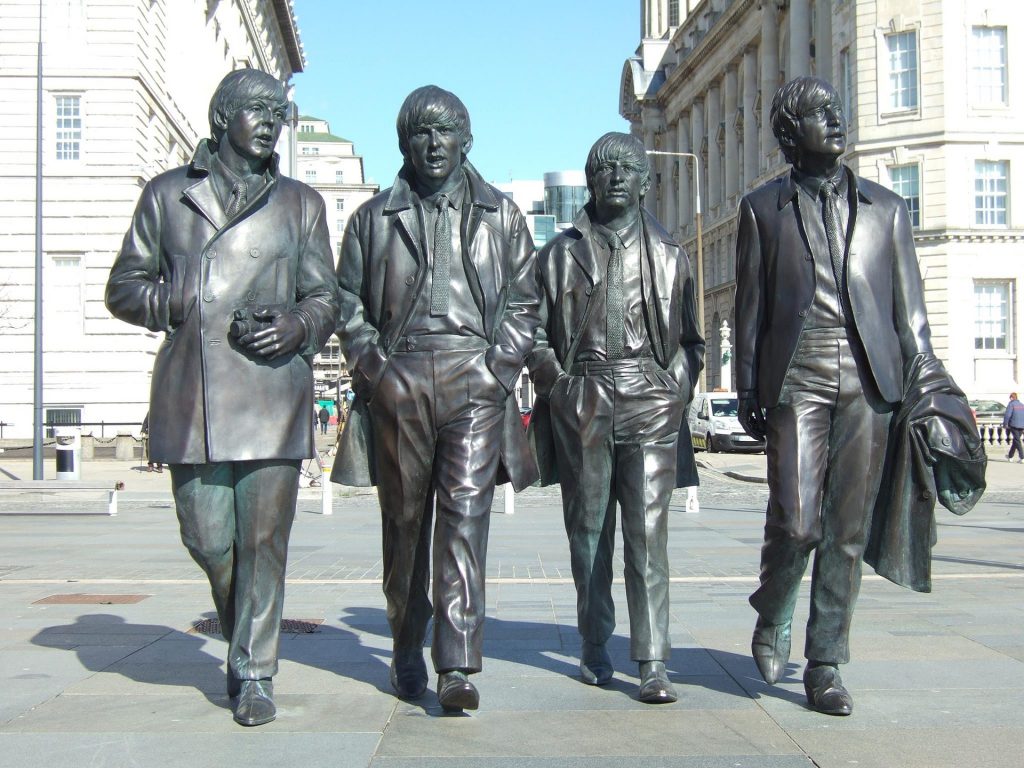 Likewise, corporate events and meetings will be just as vibrant and exciting as the city of Liverpool. Event organisers, party planners and meeting bookers have a vast choice of venues and hotels to host their event. We highlight three unique Liverpool venues that bring sporting history and kudos. Plus they're guaranteed to be a smash hit with delegates from across the UK and Europe.
Liverpool Football Club – Anfield Stadium
Following in the footsteps of famous Liverpool players, your delegates could also find themselves sitting in a modern room themed on Liverpool's greatest players and sporting successes. Kudos to the keynote speaker who hosts a meeting or event in the Sevens or Eights Lounge where Luis Suarez and Steven Gerrard could be watching!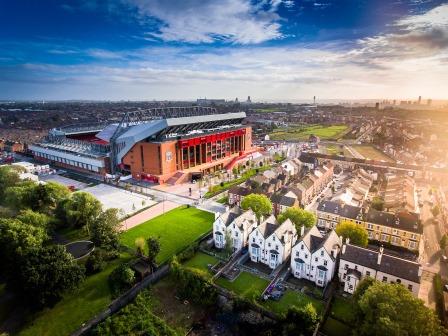 These newly appointed rooms in the Main Stand have been thoughtfully designed to create a relaxed environment. And naturally, they have unrivalled views of Anfield stadium. Featuring players that have worn the Liverpool Football Club team shirts and incorporating title-winning themes, these stylish interiors will encourage conversation. And they're sure to stir delegates towards success.
For a smaller board room meeting, an executive box at Anfield also has inspiring Liverpool players as features. Plus they do of course have incredible grandstand views across the famous pitch. For a larger conference or corporate celebration where up to 470 guests will never walk alone, Anfield is perfect. The championship space at Anfield certainly makes it on to our list as a unique venue in Liverpool with kudos!
Everton Football Club – Goodison Park
England's first purpose-built football ground is Goodison Park, home to Everton FC, one of the founding members of the Football Association. Goodison Park has ten suites and lounges. A particular favourite for small meetings is the exciting space of the Goodison Park SKY TV Box. With a panoramic commentator's view of the football pitch, you can almost picture pre and post-match analysis going on at Goodison Park! Accommodating up to ten delegates, hire this space for your team to analyse their performance and create visionary plans! Not to mention, you may find that someone in your team has the same flair and talent that Wayne Rooney brought to Goodison Park!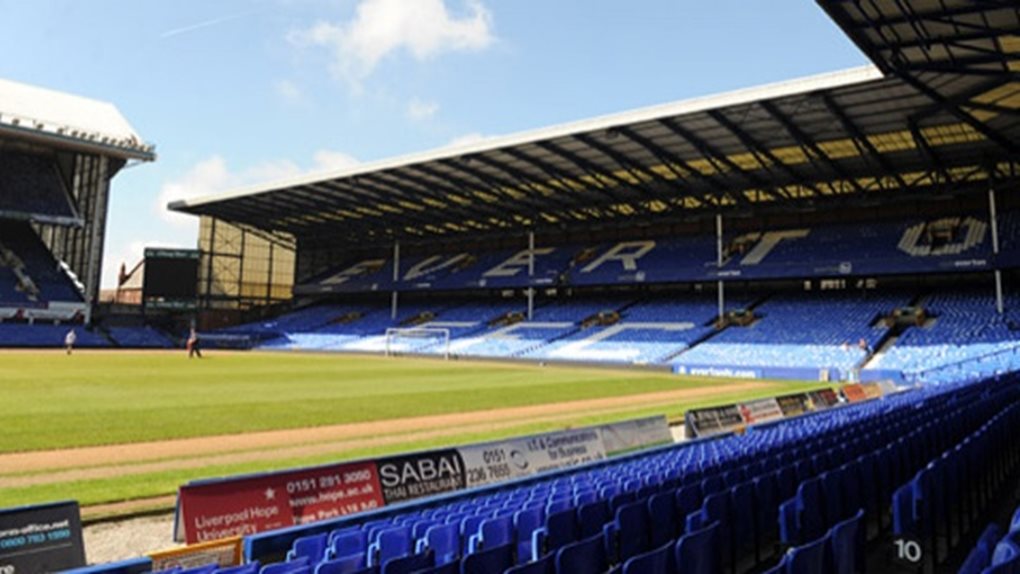 A banquet for 80 or a theatre-style room lay out for 70 guests are at home in the 1985 Lounge. Named after Everton's most trophy laden season, the space is really flexible and open with a choice of lighting options. It has several plasma screens, air-conditioning and a PA system for seamless presentations.
As the saying goes, football is a game of two halves! In the same fashion, you don't want your event defining by different levels of service or facilities. So when it comes to finding a unique venue in Liverpool with kudos in addition to premier football facilities and superb catering, Goodison Park scores on all levels.
Aintree Racecourse brings kudos to events
One of the three unique venues in Liverpool with kudos is Aintree Racecourse . Home to the most famous horse race in the world, the Randox Health Grand National is legendary. It takes sheer stamina, skill and determination to successfully get round the long course and its dramatic jumps.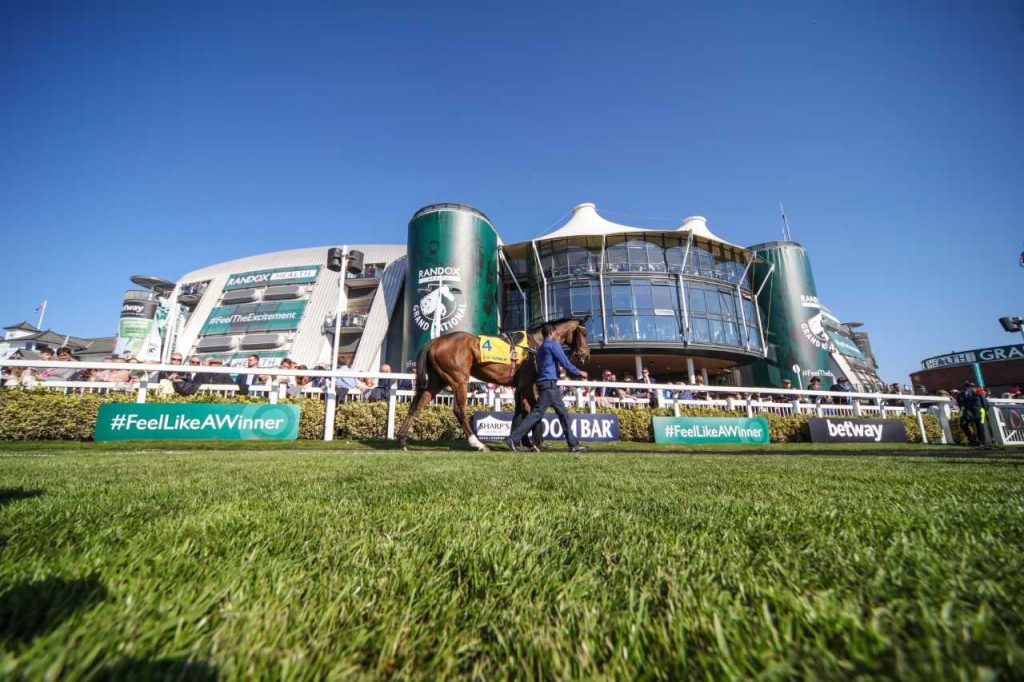 We're glad to say, there are no dramas when hiring an event space here! And in the same fashion, organising a daily delegate package at Aintree Racecourse is a smooth and calm process! For unique and interesting meeting rooms in Liverpool, this venue has a lot to offer the business world. With state-of-the-art facilities and an extensive choice of suites, event organisers will be in their element staging a conference, product launch, fashion show or party at Aintree.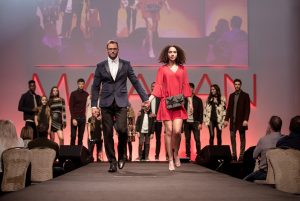 The team responsible for organising the Crabbies Grand National are the team taking care of your corporate conference requirements. Therefore, it's a good idea to use the team's expertise and knowledge to help shape, style and ultimately, deliver your event.
Aintree Racecourse has five self-contained grand stands and acres of outdoor land making it a good location for team-building events too. Company family days could quite easily be hosted at Aintree and combined with a race day meet too.
It's fair to say that this legendary racecourse in Liverpool offers sporting history and kudos. Similarly, with exciting and stimulating event spaces, delegates will be impressed with this unique setting.
Conclusion
To begin with, these unique Liverpool venues have excellent transport links and ample car parking. Hence the logistics of getting delegates and guests to Liverpool via rail, road and air is easy. Additionally, Anfield, Goodison Park and Aintree are so well practised in hosting events for thousands of visitors, you and your guests are guaranteed superb hospitality too.
We love a good helping of sporting history and an iconic sports arena or grandstand to create an inspiring environment. Liverpool, with the help of Anfield, Aintree and Goodison Park, is certainly an exciting location for business and leisure. Liverpool has definitely created at least three unique venues with kudos.
To arrange an event at one of these unique Liverpool conference venues, contact the team. We're on 01775 843411, Monday to Friday, 8.30am – 5.30pm or email reservations@findmeaconference.com