If you have one room to hire or a range of event spaces, a venue partnership with Findmeaconference showcases your meeting rooms, conference space, lecture theatres and halls to event organisers, meeting bookers, PAs and party planners.
Established over 18 years ago, we are a valued and trusted resource and with our UK corporate clients relying on our free venue finding service, our desire to offer them the best choice and variety of meeting and event spaces is always a top priority.
Whether you work independently or with your own marketing department, our Findmeaconference partnership will compliment your existing marketing while showcasing your facilities and services to thousands of new interested parties.
Findmeaconference Partnership Features

Dedicated web pages:
A comprehensive description, no character limits and an unlimited image gallery on the Findmeaconference website and  FMAC Venue Finder App. Excellent for increased SEO.

Full facility details:
Room layouts, plans, rates and a link to your own website. Perfect for helping organisers make an informed decision.

Your news stories:
Brilliant for announcing your latest accreditations, awards, menu updates, new chefs, wedding packages, incentives and press releases.

Promotion of offers:
Ideal for filling late space and promoting seasonal packages through our email and social media campaigns.
Findmeaconference Corporate Magazine
Sent to our subscribed event organisers and meeting planners, the Corporate Magazine averages over 1 million readers per month and offers a range of promotional features as part of your Findmeaconference partnership.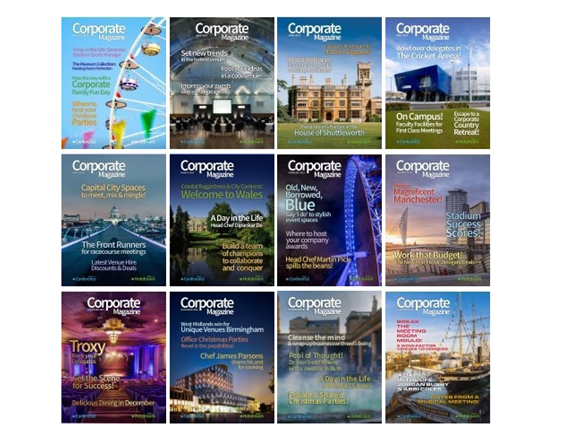 Findmeaconference Social Media
From a Twitter takeover to styling it out on Instagram, promoting your venue, meeting rooms, party places and event spaces through our social media accounts is easy and effective. We'll shout about your successes, spread your news and share your venue with all our fans and followers.
With a selection of social media campaigns available throughout your Findmeaconference partnership, you can target interested parties at a time that works for you as well as making the most of on-trend hashtags.
Here's what Digital Marketing Executive Laura from The Belfry said:
"Having only personally been working with the team at Findmeaconference for just under a year, the many opportunities available for supporting The Belfry as a meetings & conference venue has been really useful.
FMAC have been proactive in advising me how we can best use their channels for promoting our services, offers and highlighting our venue to our target audience.
The flexibility of us being able to tailor social media features to our business needs is fantastic and it's great to know that we can reach out to the marketing team and receive the additional support. I look forward to continuing the working relationship with Findmeaconference."
For further information on a Findmeaconference partnership you can submit an enquiry below.
Alternatively, contact us on 01775 843409, Monday to Friday,9.00am – 5.00pm or email clientservices@Findmeaconference.com