You know that feeling when you look at your event budget and see it's almost on empty and you know it's not getting refuelled until April 2019? Who are you going to call? Forget the ghost busters! You need our conference budget busters!
With all magic of today's technology working in unison with the team's extensive knowledge and super powers of persuasion, finding the best delegate rates around for 2019 meetings, conferences and events is simple!
Working to your preferred location and budget, and to a super-fast two hour turn around, the conference budget busters will propose up to three different venues matching your criteria. The hardest decision you'll have will be deciding which one! But then you probably thought with a budget being stretched, you might not have much choice – think again!
The Midlands on a budget
For example, how about these conference budget buster delegate rates for venues in the Midlands: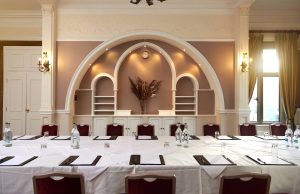 The Chace Hotel is just three miles from the centre of Coventry and has a DDR of £18. Free parking for 100 vehicles, five well equipped meeting rooms and a maximum capacity of 130 delegates further add to the appeal of this Midlands venue.

Home to Hull City Football Club and Hull FC Rugby League Club, the KCom Stadium is an impressive setting for large-scale events as well as smaller meetings. The DDR is £18.50, maximum capacity is 700 delegates, there's parking for up to 1,000 vehicles and a dedicated events team to assist.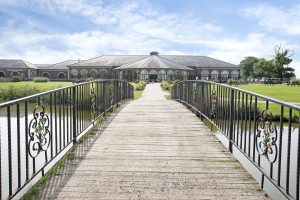 An excellent venue for small to medium size events is the West Midlands Golf Club and Lake at Barston Rest. The hotel has three function rooms, welcoming up to 250 delegates on a DDR of just £20. Complimentary parking, WiFi and air-conditioning are standard. Why not try the conference budget buster rate and then arrange a larger event later in the year where delegates can add in a round of golf?
London on a budget
Fantastic day delegate rates are not just for the Midlands! Admittedly you will always pay more for a venue or hotel in London but you can definitely do a London meeting on a budget too!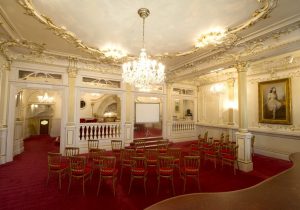 Absolutely bursting with history, the iconic London Palladium Theatre will impress delegates with an event held centre stage to a capacity audience of 2,296. Alternatively, the stunning Cinderella Bar welcomes a more modest 150 delegates. Either way, the DDR is only £29.50! That's an incredible rate for a meeting in central London!
Another historic venue in London for a conference is the De Vere Devonport House in Greenwich. Located on a UNESCO World Heritage Site, the maritime buildings host events for up to 100 guests. Low on price and high on style, their superb rate is £35 per delegate.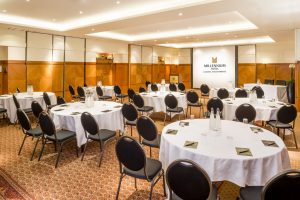 If you want a fashionable Knightsbridge address on your event invitations, the Millennium Hotel London Knightsbridge on Sloane Street is just for you! The Sloane Suite is the largest function space in accommodating up to 160 delegates. Expect modern elegance and excellent business services, and all for a DDR which starts at £45.
A London venue for international guests
No challenge is too great for our conference budget busters! We asked for a London hotel with great links to the airport. And then we asked for a value for money day delegate rate too. We thought we had the team beat! How wrong!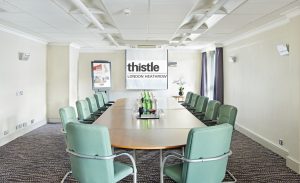 Checking in with a low fare day delegate rate of £34 is the Thistle London Heathrow Terminal 5. The appropriately named Aviation Suite welcomes up to 700 delegates. Easily accessible by road and rail as well as air, this is an excellent Heathrow hotel for international and national guests attending events.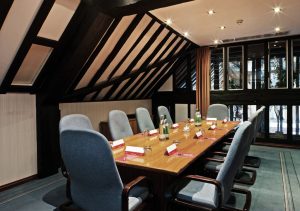 If your delegates are flying into London Gatwick Airport then consider hosting your meeting at the stunning Copthorne London Gatwick Hotel. Dating back to the 16th century, international guests are sure to appreciate the historic period features while enjoying all the comforts of a 21st century conference. And all this tradition and charm will not break the budget as the day delegate rate starts at only £14!
Beside the seaside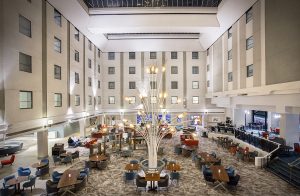 On the seafront and only minutes from Brighton Pier is the Jurys Inn Brighton Waterfront. This modern hotel has nine event spaces, the largest welcomes up to 300 delegates. A dedicated event organiser will assist and there's free WiFi so delegates can stay connected.
This seaside hotel on the south coast has a delegate day rate starting at £29.
For Irish Sea views and Blackpool's famous promenade, the Grand Hotel Blackpool Conference Centre and Spa hits the spot! Well practised in large-scale events, from conferences to celebrations for up to 900 guests, this modern hotel in Blackpool has a day delegate rate
of £25 and parking for up to 300 vehicles.
Inviting dinosaurs to a Jurassic Coast meeting is optional. Invite them to an event at the exquisite Bournemouth Highcliff Marriott Hotel and there will be roars of approval!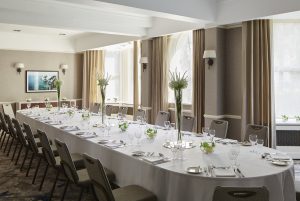 The 4-star hotel has a dramatic cliff top location with superb sea views. It offers event organisers a choice of 11 function rooms and a maximum capacity of 500 delegates.
An expert conference coordinator and an AV production team are at your disposal. Add in the award-winning food and your coastal conference is certain to be a winner. The £30 delegate day rate will keep the accounts department happy too!
There's more conference budget busters!
Now we've shared some of the team's conference budget busters in a few popular UK locations, all you need to do is contact the team! Tell them your prefered location and budget. Set them to work and see just what they can deliver!
Available from 8.30am to 5.30pm, Monday to Friday on 01775 843411 or email reservations@findmeaconference.com
Add some garden glamour to your next meeting, event or venue hire.