It can be a challenge to find unique meetings rooms because everyone's idea of unique is slightly different! However, there is help at hand to make it easier! We're highlighting five unique meeting rooms in London, Birmingham, Liverpool, Manchester and Birmingham. These unique meeting venues are as different to each other as jam and marmite! We feature a huge Victorian building in Manchester, stunning botanical gardens in Birmingham and a Beatles inspired hotel in Liverpool. Plus discover more on the Welsh venue that hosted the 2014 NATO summit. Firstly though, we go to London! And to an award-winning venue that offers a choice of unique meeting rooms in a stunning Grade II listed building.
Church House Westminster
This hidden gem in the heart of London certainly ticks our boxes for uniqueness! Set within Dean's Yard, in a peaceful and scenic location with views of Westminster Abbey, Church House offers a choice of 19 unique meeting rooms. Varying in size, the Bishop's Robing Room brings an air of unique exclusivity to a meeting for up to 20 delegates. At the other end of the scale, the impressive Assembly Halls welcomes up to 600 delegates. It certainly makes a striking backdrop for presentations and corporate celebrations too.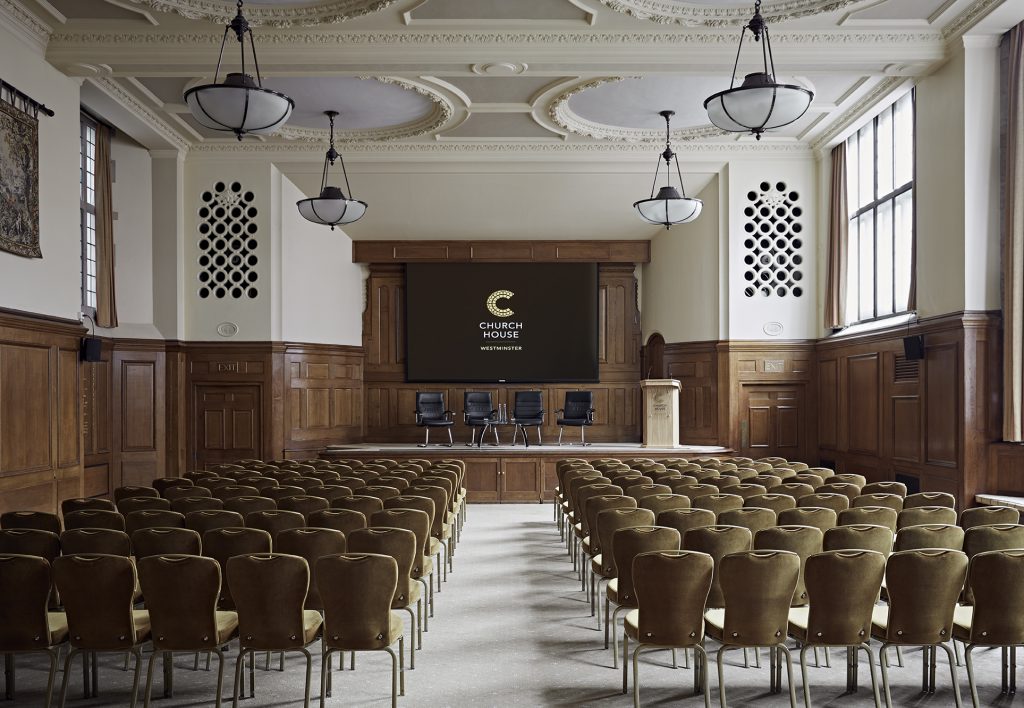 Adding to the unique appeal of this London event venue is the quality of support available. With an on-site AV and production team, you can be confident of seamless presentations. In addition, the touch-free, easy to use, plug and play technology available makes presenting to an even wider audience possible. Hybrid meetings are an increasingly popular choice for combining face-to-face meetings with meeting up virtually too.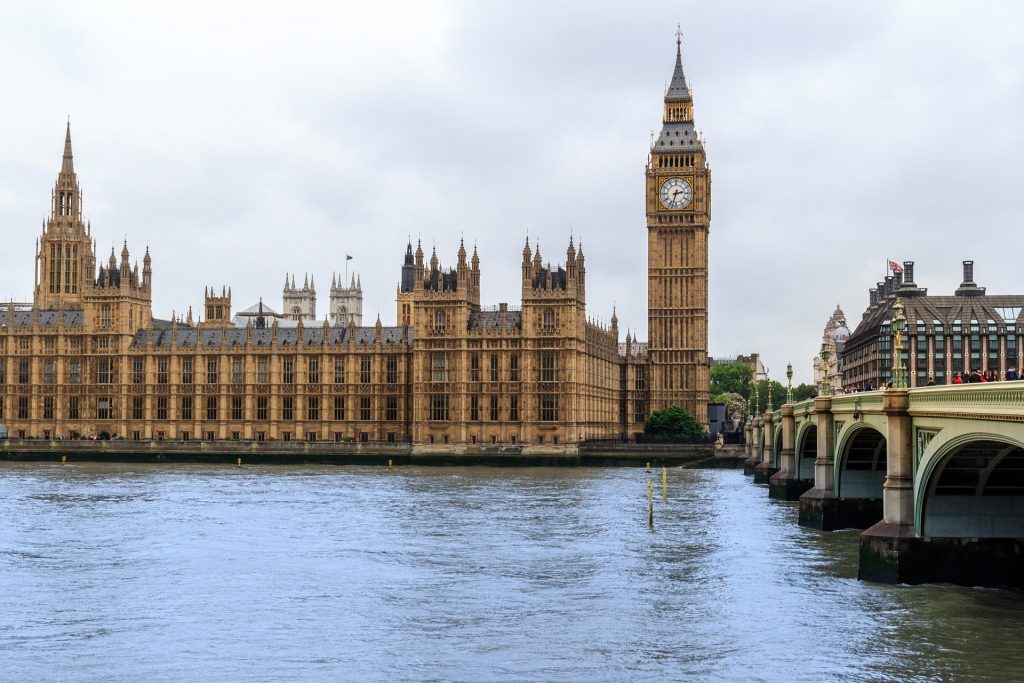 Church House Westminster is easy for delegates to get to with St James Park and Westminster tube stations just a short walk. For an extra unique feel to an event, why not add in some sightseeing to the schedule? Delegates will love their close proximity to Big Ben, the Houses of Parliament and Buckingham Palace.
Unique Meeting Rooms in Birmingham
It's the ever changing natural backdrop at Birmingham Botanical Gardens that brings a special seasonal uniqueness to meetings in the Midlands.
Imagine hosting an event in 15 acres of gardens with stunning glasshouses! The five modern event suites at Birmingham Botanical Gardens are stylish and elegant. Not surprisingly, this unique venue is a popular choice for weddings and celebrations too.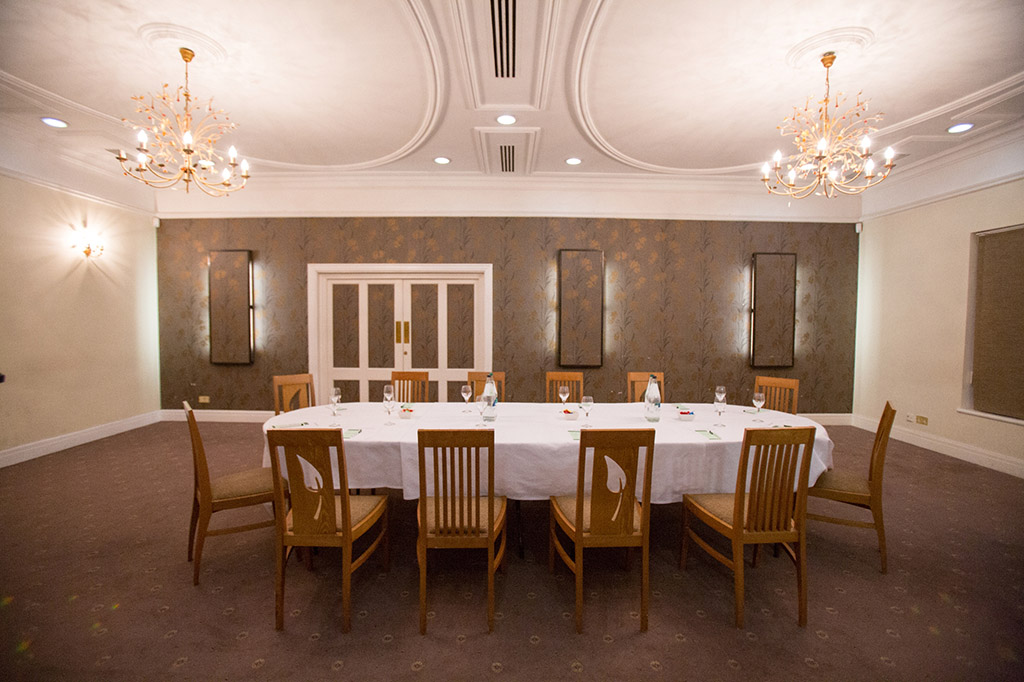 Along with a unique meeting room, this stunning venue gives delegates a truly one of a kind welcome too! Entry is via the tropical glasshouses. With this remarkable entrance, it's hard to believe Birmingham is just two miles away!
Hosting a maximum of 500 delegates, the Garden Suite is reached via the sub-tropical and Mediterranean glasshouses. Along with a private lounge bar, this stunning space is bathed in natural light and definitely epitomises uniqueness.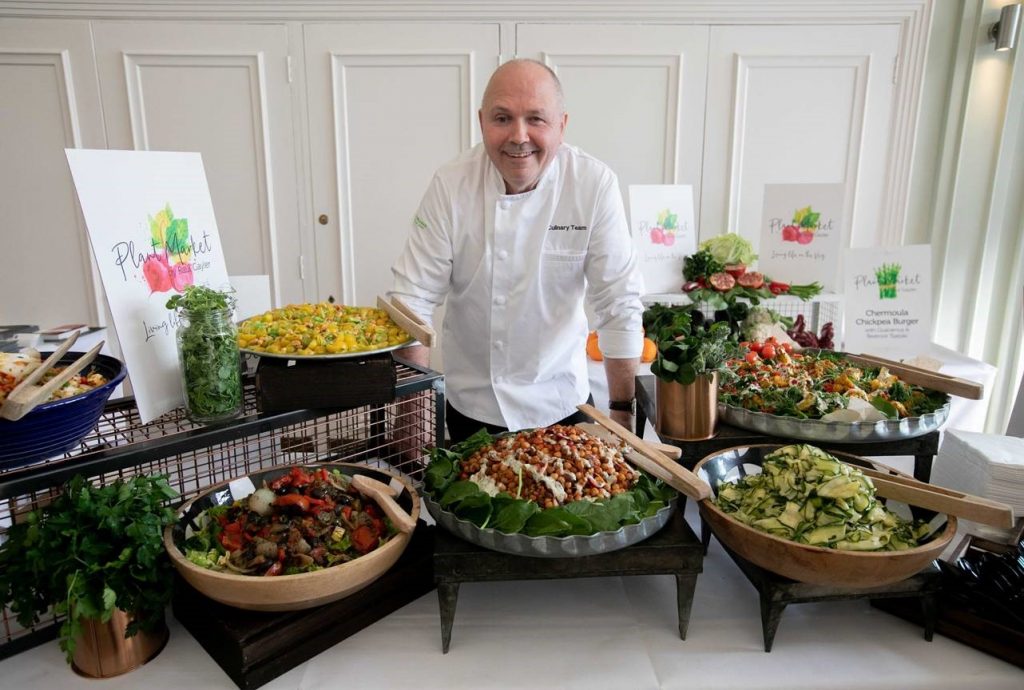 Naturally, unique meeting rooms need unique catering to create a truly memorable occasion and the Botanical Gardens has cornered this market too! Working with the on-site award-winning caters Ampersand, a momentous menu will be carefully curated to match the stunning surroundings.
In addition, it's good to know that when you choose Birmingham Botanical Gardens to host your corporate event, your company is making a contribution to the charity. This helps to keep the gardens growing for generations to come.
Unique Beatles Inspired Meeting Rooms
The Beatles are synonymous with Liverpool therefore for a unique meeting room in this exciting city, Hard Day's Night Hotel certainly takes some beating!
The Grade II listed property showcases beautiful architecture on the outside. Internally, its a nostalgic nod to The Beatles. The hotel's three unique meeting rooms stylishly display Beatles memorabilia. Therefore, if you want music, lyrics and the Fab Four to inspire, you've got it! You could even say this is a delegate's ticket to ride outside the constraints of a plain meeting room!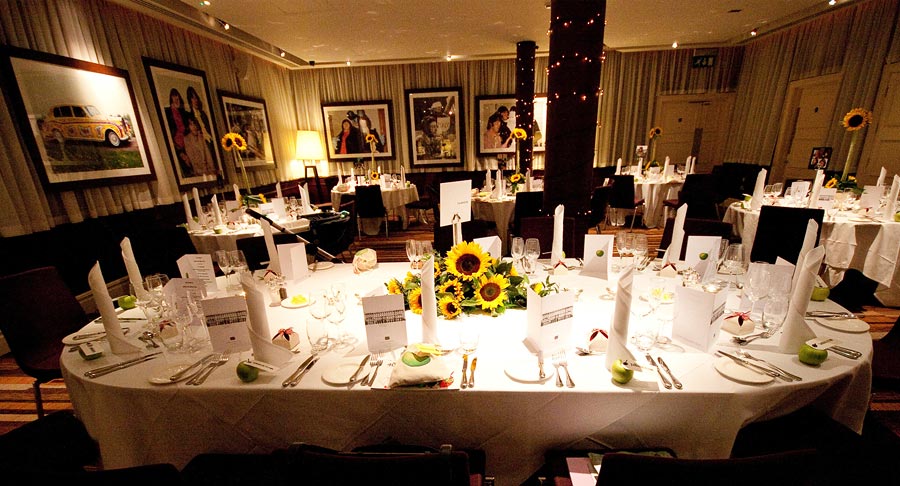 Located round the corner from the famous Cavern Club, close to Liverpool's Royal Albert Docks, Hard Day's Night Hotel welcomes up to 150 delegates. It's suitable for a good range of business meetings and corporate celebrations in Liverpool.
Manchester Central
An extensive multi-modal transport system, a purpose-built modern auditorium and unique exhibition spaces with beautiful vaulted arches; an event in Manchester Central is the ultimate in cool looks and ease of getting to too!
Originally one of Manchester's main railway terminals, with a history dating back to the 1880s, this magnificent building is not just a stylish conversion; it goes beyond and delivers all the facilities and services of a modern conference centre too.
There's a total of 29 event spaces and meeting rooms, the largest welcoming up to 10,000 delegates to an event in the impressive Central Hall. However, you shouldn't think Manchester Central is only for large-scale events! These unique meeting rooms are really flexible too. For instance, they can be broken down into much smaller areas and therefore, break-out spaces, syndicate rooms and training spaces can be organised.
Furthermore, Manchester Central has a superb sustainability mission and practices in place too. For instance, it has its own cultivator for growing herbs! How's that for local produce and reducing food miles?
Unique Meeting Rooms in Wales
For a unique meeting and conference venue offering extensive leisure facilities, you need look no further than the prestigious Celtic Manor Resort. Located in the Usk Valley, Gwent, the host venue of the 2014 NATO summit and 2010 Ryder Cup, has an enviable reputation for delivering successful events. And similarly, the kind of hospitality that keeps world leaders happy!
The purpose-built Convention Centre offers a huge choice of rooms and suites, varying from the 1,500-delegate Caernarfon Suite through to smaller syndicate rooms and break-out areas.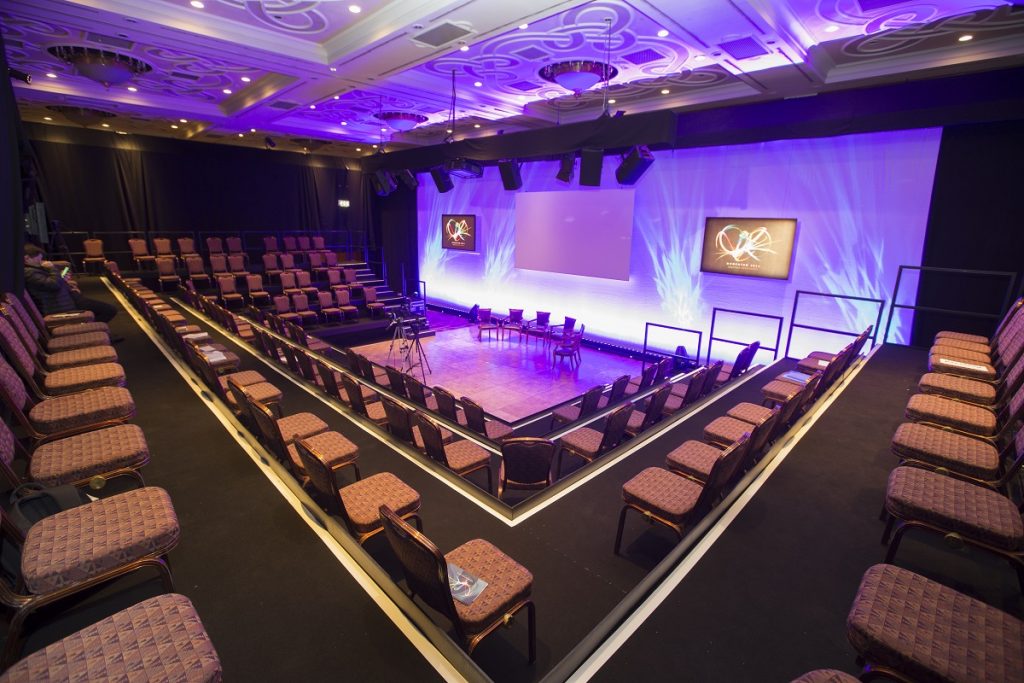 You'd be correct to expect the best in technical and event support and there's great delegate dining options too. The Olive Tree restaurant is a particular favourite. With its relaxed terrace and Mediterranean menu it's perfect at the end of busy day. Or for a unique taste of Welsh cuisine, Owen's Restaurant combines local produce with global influences to create an exciting dining experience.
With championship golf courses and an abundance of outside space, Celtic Manor is a top choice for team-building days too.
Unique Meeting Rooms near you
Firstly, with over 10,000 hotels, venues, sports stadia, museums, ships and theatres, we can quickly find your idea of a unique meeting room. Secondly, we can source the meeting room or event according to event hire rates or delegate day packages. This is in addition to searching for your unique meeting room in the location you prefer! And finally, our free venue proposals include up to three options, so you get triple the uniqueness! And triple the choice!
Call us on 01775 843410, between 8.30am and 5.30pm, Monday to through to Friday and let us find your unique meeting room near you or take a look at more unique meeting rooms on our website.