A successful event planner needs to be engaging and personable, a multi-tasker with great organisational skills, and a problem solver with a passion for delivering successful events. Step forward Alexander Rigg from Chesford Grange in Warwickshire!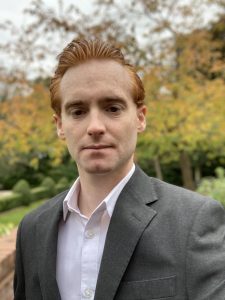 Alexander has been in the role of event planner at the charming Chesford Grange for the last two and a half years. The former manor house is located in Kenilworth. It benefits from 17 acres of countryside while also being convenient for road and rail links.
We recently caught up with Alex to find out more about his role and the changes Covid-19 has brought to the popular hotel and to his role.
Meetings at Chesford Grange
Alex explains:
"Leaving to one side the new rule of meetings currently limited to 30 delegates, we're working with companies who want to return to face to face meetings. Obviously their safety is paramount and people are asking lots of questions about social distancing, seating and catering arrangements. There is a real desire from clients who simply want to get back in a room with their colleagues and avoid the Zoom quiz catch ups!"
"At Chesford we have introduced Covid procedures to deliver our Clean and Safe Measures policy. All the hotel team has been trained in best practice for the health and safety of guests as well as themselves. We also have a sales team that know how to best maximise our meeting spaces for a safe and successful event."
Book a meeting with confidence
"Everyone at Chesford Grange wants to get back to working with our wonderful clients and customers. So to help, we have some really attractive terms for meetings that take place with us until 31 March 2021. For example, any business confirmed with us before 31 December and under £5000, can cancel free of charge up to three days prior to the arrival date. Plus for larger events up to £20,000 the event organiser can cancel free of charge up to eight days before the event."
Standout events
We asked Alex if he had a favourite event at Chesford Grange and he told us:
" A corporate event that standouts for me included a nine foot replica of the Eiffel Tower! The function room was expertly decorated and the set mirrored the theme of the event perfectly.
"A memorable charity event was when we welcomed the Lily Foundation for their family weekend. They had different activity rooms for the children and seminar rooms for the families. And then, to top it all off, everyone enjoyed a BBQ and summer fair fun day in the hotel's grounds. The smiles on everyone's faces made all the hard work so worth it!"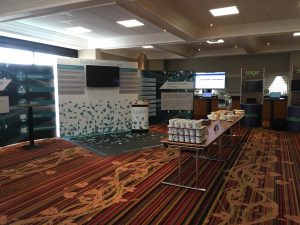 "For me the most rewarding part of my job is seeing how the little details can impact a customer's experience in such a massive way. This isn't just something specific to my planning work but in almost every interaction we are now a part of in this new normal. Whether it's taking note of a guest mentioning it's their anniversary at check-in to helping an exhibition organiser with their floor plans. The feeling of going the extra mile is the very thing I love about this industry."
Customer feedback
Chesford Grange is the proud holder of the Venue Verdict Gold Standard accreditation. This is awarded to hotels which consistently deliver an exceptional customer journey. In addition, recent feedback from delegates attending a meeting at Chesford, certainly reinforces customer satisfaction:
"We recently hosted a meeting off site at Chesford Grange for our Management Team. During our visit we felt safe and secure with the checks the hotel had in place, with our meeting room spaced out to allow us to keep well within the two metre rule. We are already planning a further meeting at the hotel."
Meetings & events in 2021
No one can deny the meetings and events industry has certainly been hit hard because of the virus. So, staying positive and looking forward to meetings and events in 2021 is certainly at the top of the agenda for event planners and organisers. Alex concludes:
"Our industry will bounce back and I'm sure it won't take long for 2021 to revitalise itself! A positive to come from this though is our office team is now cross trained in many different areas of our business. We now all have a new found understanding of the customer journey and how that translates into more personalised events.
"The biggest challenge will be how long social distancing remains in place. And how we bring back that very human connection with people that we are striving for."
Facilities at Chesford Grange
Chesford Grange boasts a wide range of rooms for small meetings welcoming up to 30 delegates. In addition, the historic property has flexible large spaces for future events that will welcome up to 700 guests or delegates. As well as these impressive conference facilities, a restaurant, bar and relaxing outdoor terrace add further appeal.
For more details on the superb meeting rooms and facilities available at Chesford Grange follow this link . To make an enquiry call the Findmeaconference team on 01775 843410, Monday to Friday, 8.30am -5.30pm.