We've selected some of our favourite private dining rooms that are perfect for combining a corporate function with delicious private dining. Making ideal dinner party venues as well as setting a professional backdrop for a discrete business meeting, these beautiful dining rooms have superb corporate facilities and first class service. And just as importantly, they are certain to impress you and your guests, clients or delegates.
Private Dining Rooms in London
Located in the heart of the capital city in the business district of Canary Wharf, the London Marriott Hotel Canary Wharf impresses with its choice of rooms that can be hired. A private dining occasion or a larger social gathering such as a banquet can be held in the hotel's West India Ballroom which is a sublime space.
For an intimate gathering around the table, the Ebony Room creates a discrete business setting for entertaining and dining with clients. If you prefer to keep business and pleasure separate, after a day of meetings, the hotel's G&Tea Lounge is a sophisticated place for light bites and afternoon tea or the Manhattan Grill serves a meatier menu with prime cuts and tasty side dishes.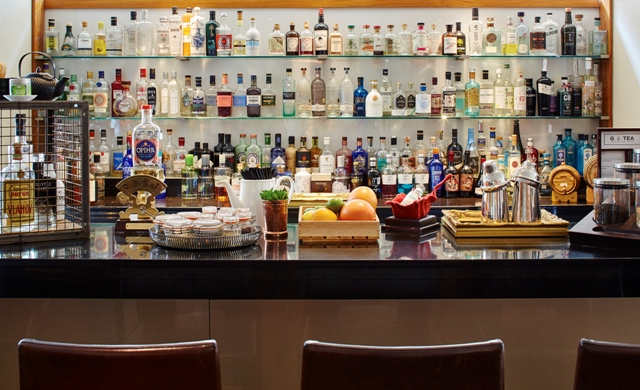 Whether you opt for a private dining room at this Canary Wharf hotel or host a banquet for many, the West India Quayside property offers a sophisticated and stylish dining experience that will be savoured.
Buckingham Palace Road
With an address that includes Buckingham Palace Road, your invites are sure to create even more excitement when asking people to attend a private dining experience at the Amba Hotel Grosvenor! For lovers of Victorian history and 19th century glamour, this London hotel is a gem. The building dates back to that golden era of rail travel when a splendid hotel next to the station was customary. And for a step back in time, invite your guests to join you at the hotel's Reunion Bar. This was Victoria Station's first class lounge and the railway connections continue with many of the function rooms named are legendary trains such as The Pullman, The Scotsman and The Orient.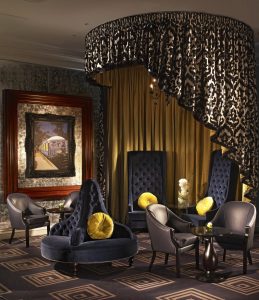 You have an exciting range of options for a private dining experience at the Amba Hotel Grosvenor. For instance, the recently refurbished Tea Lounge is ideal for meeting and greeting guests and enjoying afternoon tea. Equally impressive is the stunning Soak Bar. With its central island bar, carefully curated collection of drinks and a restaurant specialising in a menu that use brining, fermenting and soaking, the whole experience is to be savoured.
An exquisite private dining room that entertains up to 25 guests is available. The menu here is a splendid Cantonese fine dining experience and is absolutely spot on if you prefer to entertain and over lunch or in the evening.
Private Dining Rooms for Business in Birmingham
For a gathering of at least 60 guests, the Council House Banqueting Suite in Birmingham offers more grand Victorian splendour and magnificence for a private dining celebration.
The stunning Grade II listed building has been the scene of many prestigious occasions. The property has welcomed the Royal family, film stars and world leaders too. While the building reins in Victorian elegance, the catering is of today, with modern menus designed by an expert team.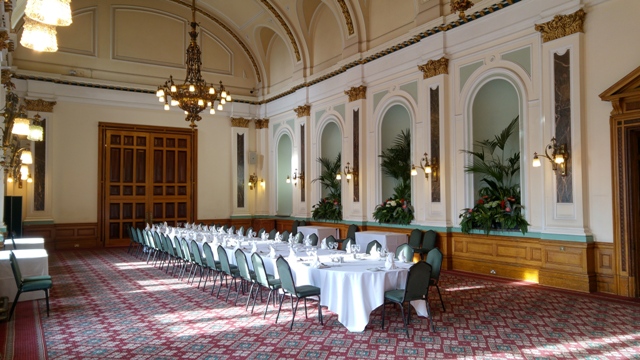 Private Dining Rooms in Manchester
Rumour has it that Victoria and David Beckham had their first date at the Midland Hotel in Manchester. History states the Rolls and Royce struck their deal at this iconic property. And there's evidence to confirm Winston Churchill delivered one of his stirring speeches here too. Plenty to discuss round the dining table as Mancunian hospitality meets world-class dining then!
With a superb reputation and in the UK's top 15 restaurants, the hotel's restaurant, The French is an exceptional experience. Adam Reid is the Chef-Patron; a position he's held since 2016. The 4 AA rosette and Great British Menu winner has created a dining experience that's famed for both its food and fine service. Perhaps not surprisingly, the restaurant is 11th in the Good Food Guide 2020.
As glamorous and spellbinding as The French is, the Midland Hotel offers superb private dining rooms too. The Stanley and the Royce Suite are both fine examples of spaces which guests will love dining in. Lots of natural daylight, wood panelled walls, high ceilings, ornate pillars and fireplaces feature. Together they paint a stylish, sophisticated scene for a three, six or nine course meal.
Business Dining in the Cotswolds
If escaping the city is on the company's agenda for a conference or meeting, followed by an exclusive fine dining experience, then the beautiful setting of the Cotswolds should be on the menu.
Heythrop Park Hotel at the heart of Heythrop Park Resort in Chipping Norton certainly takes the wow factor from the meeting room and elegantly serves it up in a private dining room. The 18th century manor house certainly creates an impressive backdrop. Opulent and imposing, a drinks reception held in the foyer announces an evening of fine food and fine service. Heythrop Park also offers an excellent choice of rooms. For instance, for private dining for up to 200 delegates, both The Orangery and the Enstone Room are ideal. The stunning Orangery has floor to ceiling views overlooking picturesque Italian gardens; in the summer guests will certainly believe they're swapped the Cotswolds for the Mediterranean! For a smaller private dining invitation for 60 guests, the Churchill Room is a show-stopper! It features traditional décor, fixtures and fittings as the image below left shows.
For a limited time (until the end of April 2020) Heythrop Park Resort is running a couple of special offers for event organisers. Valid on weekdays and for a meeting, conference or event taking place before the end of April, a reduced 24-hour delegate rate is available. In addition, a free drinks reception and shopping vouchers – depending on the number of attendees and the value of the event – are also on the table for lucky organisers.
Conclusion
From large-scale and lavish to petite and perfect, the range of private dining rooms in the UK is huge. We've highlighted a few of the options available. However, we do have access to over 10,000 hotels and restaurants so if you need help to source the perfect venue, please contact. We're on 01775 843410, Monday to Friday, 8.30am -5.30pm.
Bon apetite!