We're excited by fine dining menus and the important memories these special dining occasions can create. This is because not all meetings have to take place round the boardroom table! Some meetings are a convivial blend of conversation and consumption round an elegant dining table! And some fine dining experiences can be enjoyed outside too. Planning a summer menu packed with delicious seasonal ingredients for an al fresco afternoon is a real pleasure. Some times it's good to bring clients together to enjoy a winter menu of fine dining, especially close to Christmas.
These intimate gatherings help strengthen business relationships. It's a time to show clients how you appreciate working with them. Fine dining can be a moment to thank colleagues and contacts for their work and their support. It can be a moment in time to celebrate a break-through or to toast future successes.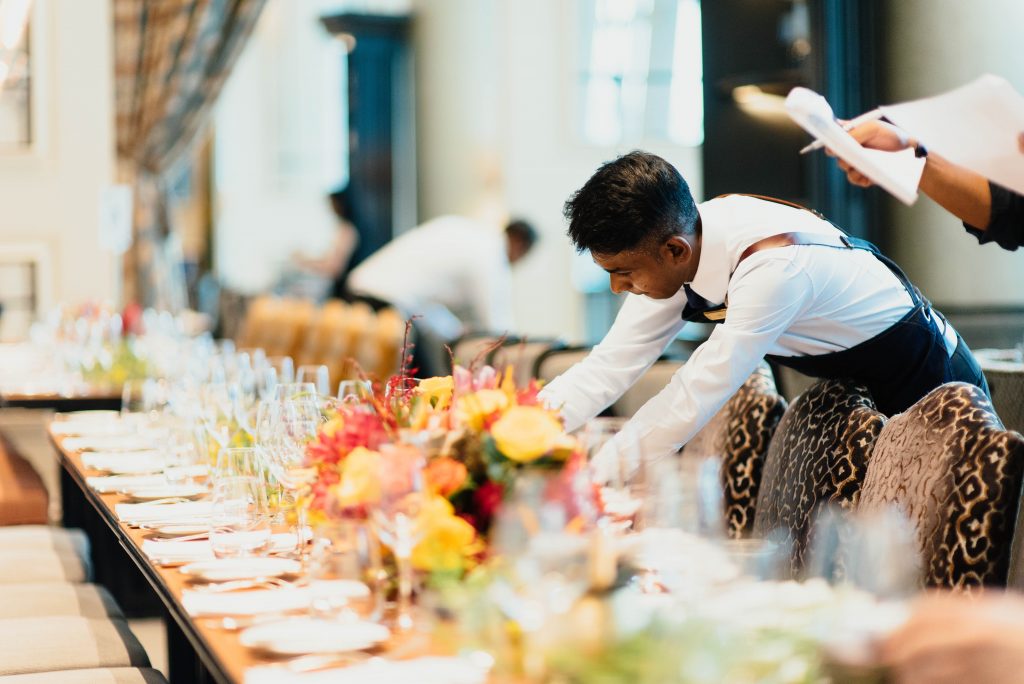 Fine Dining Planning
Because fine dining should be a memorable experience, it's important to get the pre-event planning right. You don't want anything to spoil the occasion so consider
the venue
the dress code
the menu
the wine
the invites
the season.
Choosing the venue or restaurant for a fine dining occasion should be fun! We like to give our clients a choice of at least three different venues. They can be defined by the location, the budget and the menu.
A fine dining experience can be held in a private dining room too so you can keep the event really intimate. This is especially nice if you're entertaining clients and want to discuss aspects of business too. Restaurants, hotels and venues that offer private dining rooms will also go out of their way to style the room and the table to complement the occasion.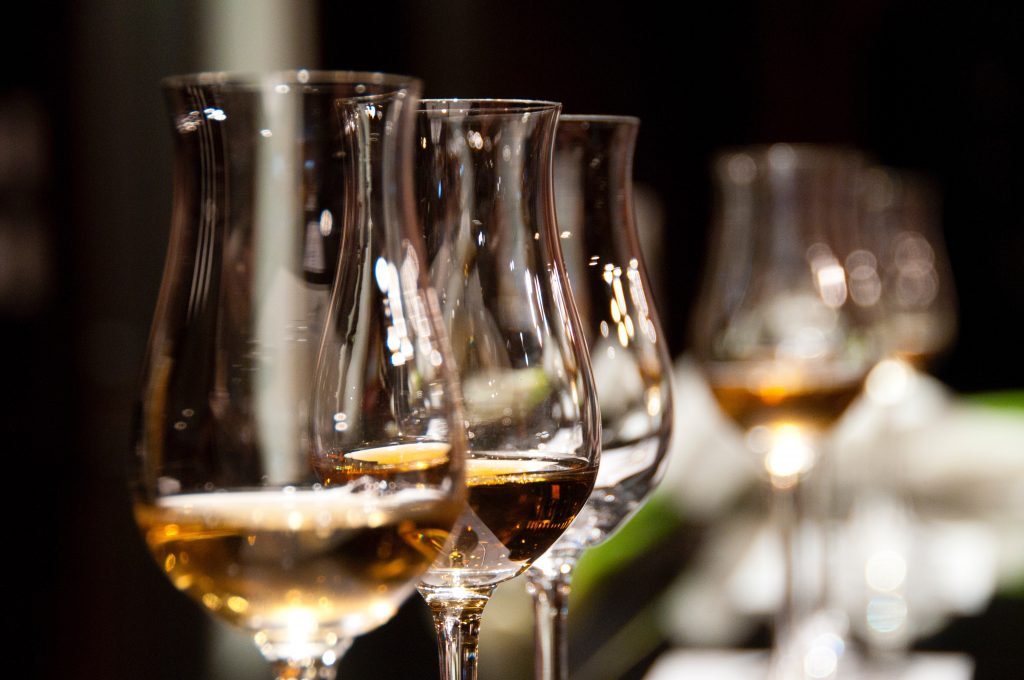 From swanky centre piece candelabras to vases of elaborate flower displays, tasteful name cards and menus, the table should have wow factor! Sparkling glasses, shiny cutlery and linen napkins will announce this fine dining meal is going to be memorable!
Fine dining menus
Forget buffet bars and eat as much as you like! With a fine dining experience you and your guests will linger over at least three courses and maybe even nine, enjoying the in between entremets as you look forward to the next course.
The executive chef will be eager to impress so anticipate dishes that don't just taste good. The time and thought that goes into plating up will definitely make your fine dining occasion Instagram worthy!
During the planning process is usually when the menu is finalised. So, along with creating dishes using seasonal, fresh produce, the chef will design a menu that works for any dietary requirements your guests may have.
A fine dining gathering requires the knowledge of a good sommelier too. They will work with you to suggest the prefect wines to accompany each course and may even invite to the restaurant for a wine tasting before the main event.
Our favourite fine dining restaurants
Mercure Gloucester, Bowden Hall Hotel is a beautiful Georgian country house hotel set in 12 acres of sweeping parkland.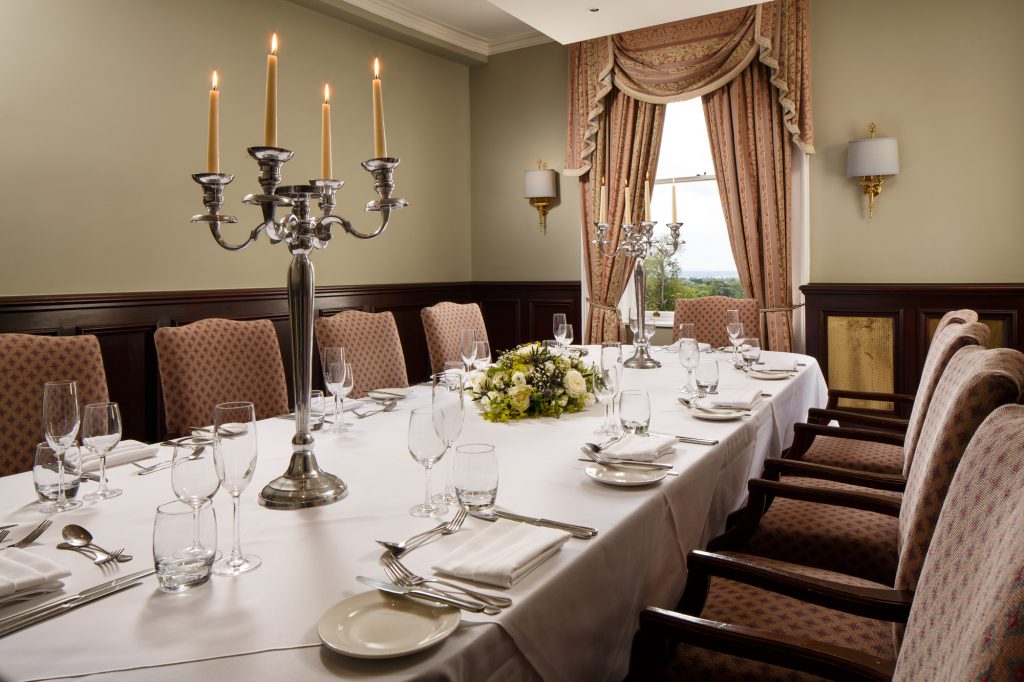 For an impressive larger scale fine dining experience, consider the beautiful Royal Horticultural Halls in the borough of Kensington and Chelsea. It works regardless of whether you're considering a summer or winter menu. The beauty of this venue is you get a blank canvas to create your own style and atmosphere but, because the building is packed with architectural heritage, that blank canvas is an inspiring backdrop to begin with.
Manchester has long been the creative capital of cool and the Kimpton Clocktower Hotel can't fail to impress. We love this hotel all year round but as the picture shows below, a winter fine dining menu to compliment this stunning room, can't fail to impress.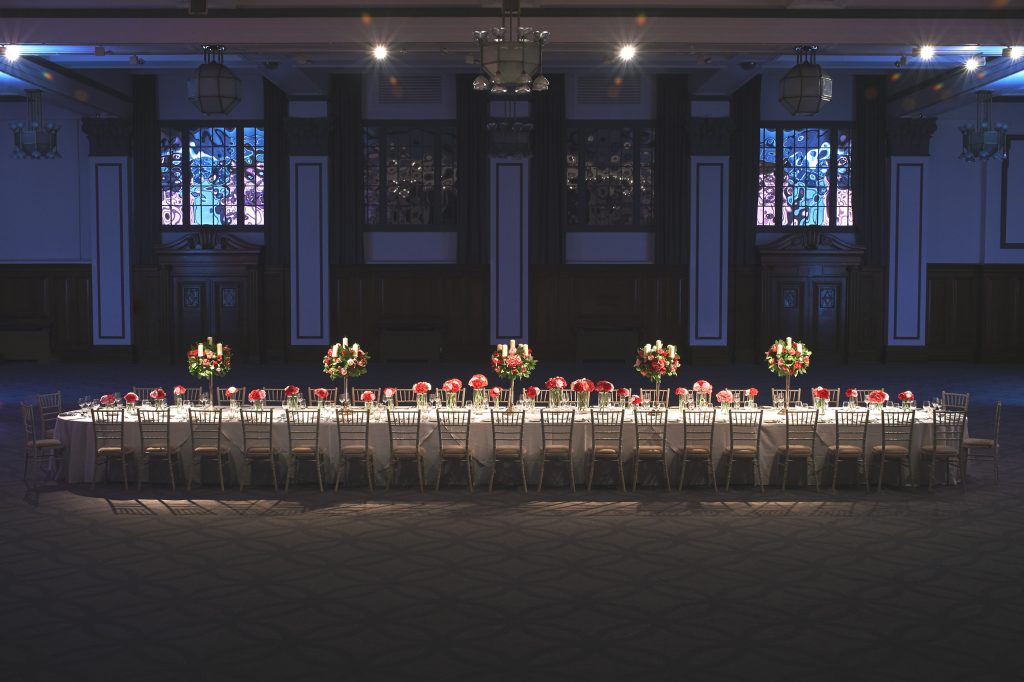 For a beautiful summer fine dining menu to enjoy al fresco, consider the Walled Garden at Orchardleigh House in Frome, Somerset.
For a light-filled conservatory with pretty views over the gardens and a lake, the Crowne Plaza Marlow is a great choice for a winter or summer menu of deliciousness.
Whether you decide on a summer menu or a winter fine dining occasion, it will be a memorable experience with food prepared by a passionate team of experts. The service will be sublime. The atmosphere exciting and the conversation will be the perfect accompaniment!
To start planning your occasion, take a look at these restaurants and hotels. Bon Appétit!