Everyone loves a room with a view and that includes delegates attending an event. The view that brides and grooms want from a hotel or wedding venue is important to an event organiser too. And the meeting room booker who appreciates the values of a room with a view will set the scene for a successful event! Even before the invites have been sent!
Thanks to our amazing brains, we are wired to respond to views! Categorised as lush, the views of landscapes and greenery, beaches and sunsets fill us with positive sensations. And if we're witnessing a building or city we've never seen before – categorised as a novel view – the same positive feelings will also surface.
A meeting room with a view should never be considered a distraction either! Contrary to this, a meeting room with a view is a space to inspire and excite. It can stimulate conversation and shared connections. Putting delegates at ease and encouraging polite talk between people who have just met is much easier in a room with a view. And a brainstorming break-out session that encourages new ideas from colleagues will certainly get off to an excellent start!
A meeting room with a view in London
Located on St Katharine's Way, The Tower Hotel has possibly one of the most iconic views in the world. Sitting next to the River Thames and alongside the World Heritage Site of The Tower of London, this hotel has views to inspire delegates to greatness. With meeting rooms overlooking the engineering skill and striking architecture of the famous Tower Bridge, it's easy to be impressed. Furthermore, with views of The City's high rise buildings that shape the recognisable business landscape, you can appreciate how the hotel captures the contrasting views of the capital.
A meeting room booker deciding on The Tower Hotel has a good choice of event suites at their disposal. Varying in capacity, our Findmeaconference team will advise on the different rooms available. They can also check which rooms benefit from natural daylight and the best vistas of London. For unrivalled views of The Shard and Tower Bridge, the hotel's terrace next to the River Thames makes the perfect spot for a drinks reception or for delegates to stretch their legs in between meetings.
A meeting in Marlow
This picturesque part of England provides lush views of the River Thames and beautiful Buckinghamshire countryside. And as an added bonus, this stretch of the river running through Marlow is where past and maybe even future Olympian rowers have trained as part of the Marlow Rowing Club.
With such a stunning location, it's not a surprise that the Macdonald Compleat Angler is a popular hotel for weddings and also celebrations. Further more, this hotel has an enviable reputation for its food too, with Michelin-starred chef Atul Kochhar the creative culinary genius behind the mouth-watering menu.
A riverside location
Located just 20 minutes from Heathrow International Airport and with fast train connections into London, Macdonald Complete Angler is a welcoming hotel for business meetings too. The stylish and flexible function rooms have smartboard technology and free, unlimited WiFi. The Balmoral Boardroom has its own private decking and access to the riverside gardens. This space boasts its own breakout room and seats up to 18 executives around the hotel's impressive purpose-built boardroom table. Additionally, the Balmoral Boardroom can be combined with the Sandringham Boardroom to increase the capacity slightly. This allows for a further ten delegates to attend.
For a larger-scale event, such as a company awards evening, the Regency Room welcomes up to 120 guests. It has its own private entrance and hospitality meet and greet room to add to the VIP feel of the occasion. The room has a covered terrace and lovely views and makes a superb setting for a gala dinner or a champagne reception.
A room with a view in Edinburgh
Sitting half way between Edinburgh Airport and the City of Edinburgh, and next door to Edinburgh Zoo and its famous pandas, the 4-star Holiday Inn Edinburgh has its own dedicated conference centre known as the Academy. This self-contained area is suitable for a wide range of events, from parties and celebrations, to presentations and residential conferences.
In addition to providing excellent event space, the Holiday Inn Edinburgh excels in catering that has carefully been designed to keep delegates motivated and energised. Ask the Findmeaconference team about the hotel's Ingredients for Success menus. With all-day refreshments included in delegate packages, colleagues, clients and guests will benefit from the panoramic views over the Pentland Hills and Edinburgh Zoo as our picture shows below.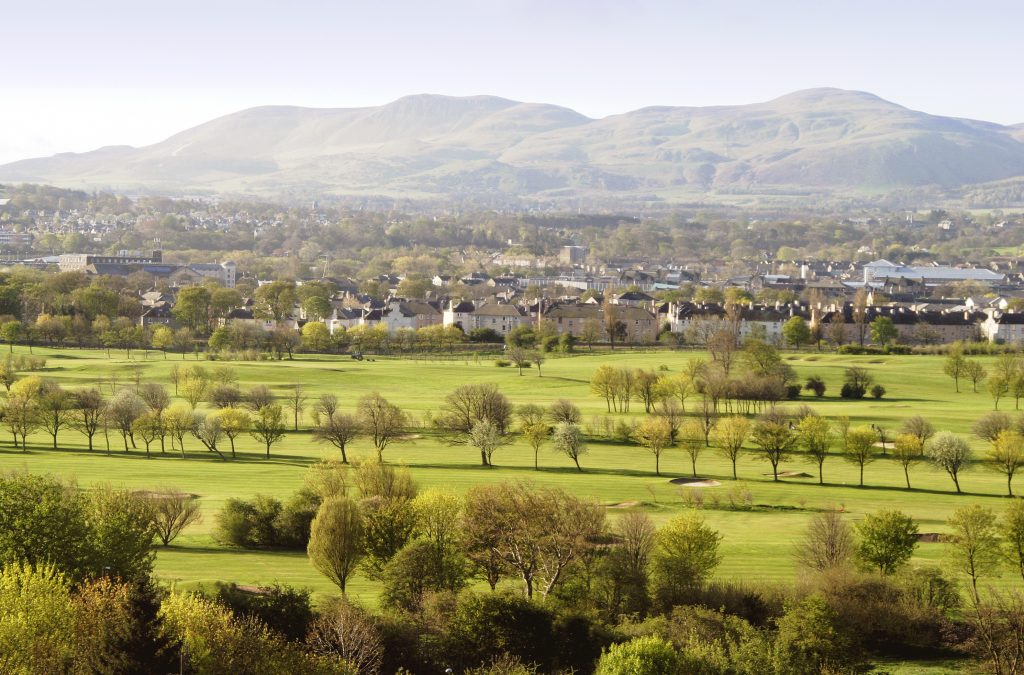 A meeting room with a view in Birmingham
An inspiring view from a room in Birmingham could come courtesy of one of the modern city centre hotels. With rooftop bars and restaurants to choose from, an exciting view of Birmingham city centre is there for anyone with a head for heights! However, the Findmeaconference team have opted to keep their feet firmly on the ground and travel just under two miles from the city centre to take a look at the historical Birmingham Botanical Gardens in Edgbaston.
The naturally beautiful venue is certainly a charming choice for a meeting, conference or celebration in the midlands. Sitting in a leafy Birmingham suburb, surrounded by acres of gardens and glasshouses, the Botanical Gardens can truly boast about its lush surroundings and elegant backdrops!
Entry to the 500-person capacity Garden Suite is via Sub-tropical and Mediterranean glasshouses. These create an impressive and unique arrival for delegates that's sure to be a conversation starter! The enchanting spell continues into the Garden Suite too which oozes elegance and style. Bathed in natural light, the Garden Suite also benefits from its own private lounge bar that's ideal for evening hospitality. Another added bonus is that delegates have complimentary access to the Gardens too. Imagine break time at the Botanical Gardens! Your delegates are certain to be stirred and motivated by all that they see here!
Grace and glamour in a meeting room in Leeds
The sweeping driveway takes delegates through 300 acres of landscaped gardens. This is the first indicator that the views of Oulton Hall in Leeds are special. And once inside the 18th century mansion guests soon discover that the charming views looking out are equally as appealing. It's no wonder Oulton Hall is a desirable wedding venue. Plus with a 27-hole golf course, a relaxing spa and award-winning dining, it's a popular choice for leisure guests too.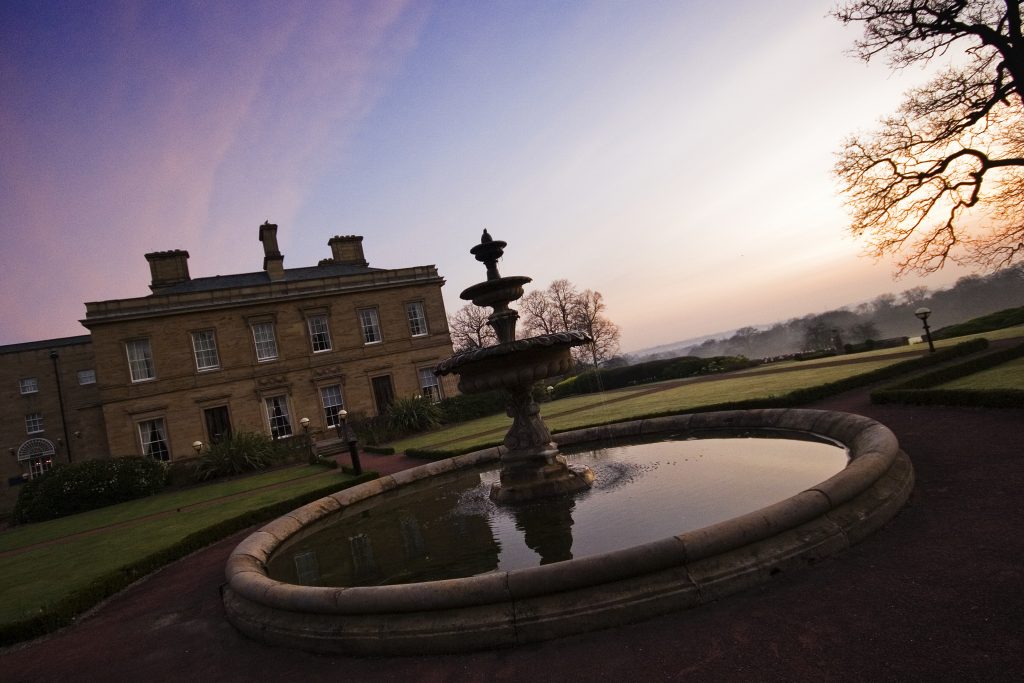 For a business meeting, the venue has so much appeal. It also has a superb selection of meeting rooms located in either the main house or a separate dedicated building; the Claret Jug. This space offers views over the attractive golf course and has a wrap around terrace, private bar and lounge area. Creating an exclusive private retreat feel, the Claret Jug entertains up to 150 delegates for a theatre-style event or conference. Alternatively, 100 guests will love a lunch date here! With plenty of glorious gardens and open spaces, Oulton Hall makes an inspiring setting for team-building days too.
Conclusion
Whether it's a lush or novel view, a meeting room with a view is good for everyone! When the time arrives to host your company conference or meeting, let our Findmeaconference team find your room with a view!
Available from Monday to Friday, 8.30am – 5.30pm send a request to enquiries@findmeaconference.com and see which lush views the team suggest!