Generally speaking, everyone can agree that a guest room with a view is vital for feelings of well-being, appreciation and anticipation. For our team, and indeed many event organisers, a room with a view is equally important for creating the right environment for a meeting or an event. But if you're in charge of finding a London hotel or a London venue to hire, it can be tricky. This fact is especially true when you're not familiar with the famous city. For instance, finding a London hotel with great views in one of the capital's tourist hotspots is a minefield! Also, with all the different London boroughs to consider too, it can get quite confusing.
We've selected five of our favourite London hotels with great views and don't forget, our experienced conference team can search for your next meeting room, conference centre or event space in London too!
Great views at London Marriott Hotel County Hall
With the River Thames and the world-famous Houses of Parliament directly opposite the London Marriott Hotel County Hall, wowing your delegates with this iconic view is easy. With this in mind, we're convinced that the historic backdrop will make an event worthy of having its own hashtag! Quite simply, everyone attending will want to take a selfie or a photo of the stunning setting!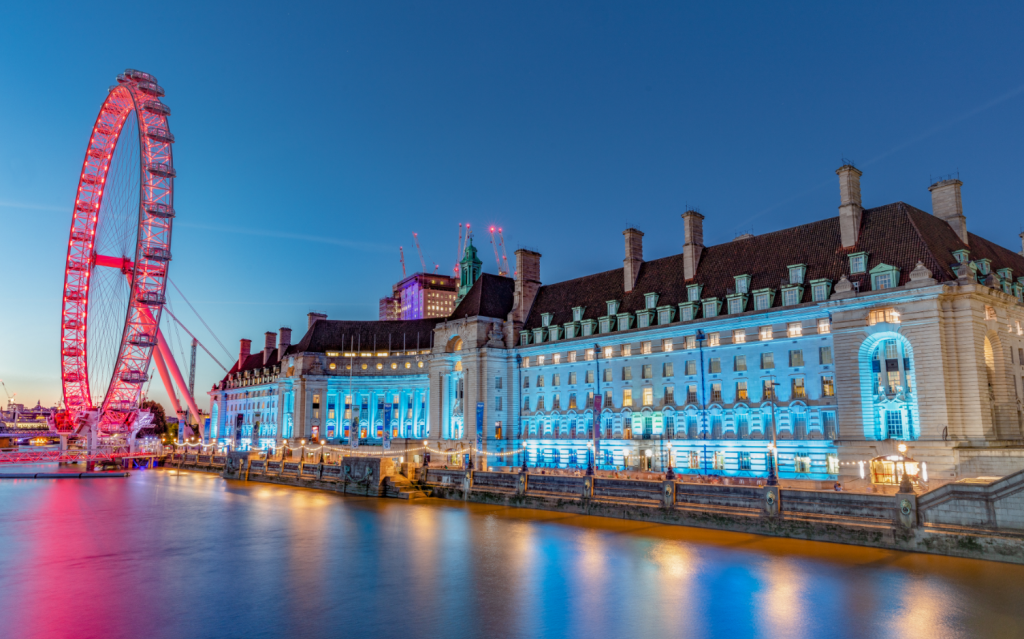 The hotel is adjacent to the London Eye, which is a sure to be a familiar sight with the millions of people who see the New Year London fireworks display on the TV. Getting here is convenient too, as Waterloo International Station and Waterloo Underground are both just a short walk. You could advise your guests to arrive at Westminster Underground too. This gives them the opportunity to walk over the famous Westminster Bridge so they can take in the views of the River Thames down to Lambeth Bridge.
The London Marriott Hotel County Hall has beautiful architecture; towering bronze doors, polished marble floors, elegant high ceilings and oak panelling announce your arrival to this former seat of government.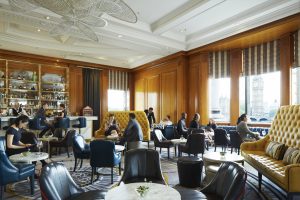 Favourite spots to linger in for their marvellous views and great hospitality are Gillray's Bar or the M Lounge. For a reception entertaining up to 100 guests, pick The Library. Oak book cases packed with classics and picture postcard views of Big Ben and the Houses of Parliament are sure to be a huge talking point with everyone.
This 5-star luxury London hotel offers event organisers state-of-the-art wireless presentation systems, a meetings service App and high-speed WiFi.
The Tower Hotel
Our second London hotel with great views keeps us next to the River Thames and alongside the world heritage site of HM The Tower of London.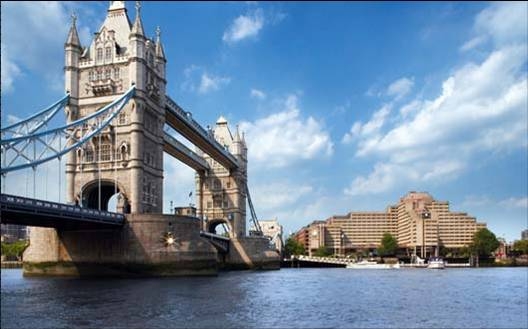 Superb views of Tower Bridge and St Katharine Docks Marina bring a beautiful blend of historic London combined with the redeveloped marina and its modern amenities. As central London's only marina, it has grown into a vibrant waterside location with bars and restaurants, shops and offices.
Getting your guests and delegates to The Tower Hotel is simple as Tower Hill Underground is only a five minute walk. As is Tower Gateway for the Docklands Light Railway too. You could decide to have your guests reach the hotel via the Thames Clipper for a scenic riverside arrival!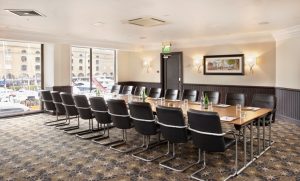 Meeting bookers have a superb choice of rooms and suites. Many of them have a riverside or marina view, therefore delegates are happy and event organisers are happy! This is an excellent London hotel for boardroom meetings or a large corporate celebration.
Holiday Inn London Stratford City
Do you fancy views over the Queen Elizabeth Olympic Park and the ArcelorMittal Orbit? Combine this with the fantastic legacy of London 2012 and you're onto a winner with an event held at Holiday Inn London Stratford City.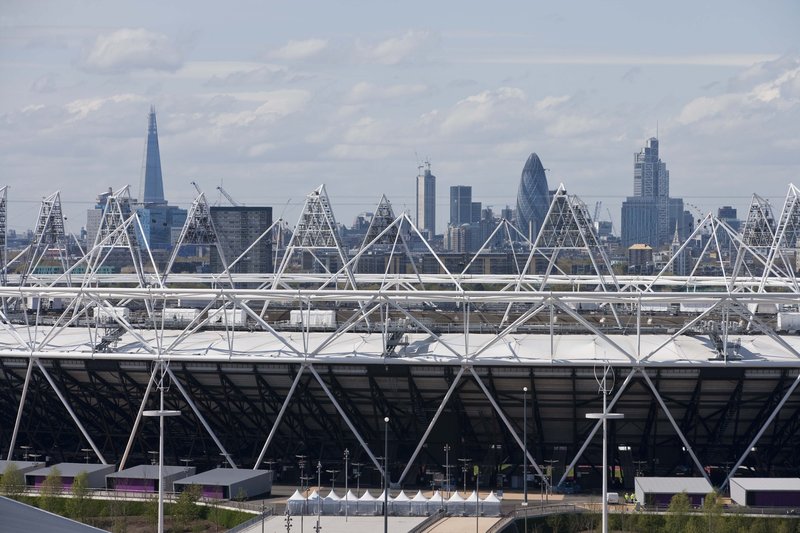 Appropriately, the East London hotel has kept with an Olympic theme and named all its event rooms after Olympic host cities. This means meeting bookers could be arranging an event in Sydney or Paris!
This hotel has a maximum capacity of 100 people for a reception or 85 delegates attending a theatre-style event. Therefore, this is the perfect choice for smaller, more intimate gatherings hosted in a London hotel with great views.
Holiday Inn Camden Lock
Camden Town is perhaps one of London's most vibrant areas. It attracts international and national visitors to its famous markets next to Regent's Canal, and celebrities and music fans to Camden's famous venues, such as the Roundhouse and Jazz Café.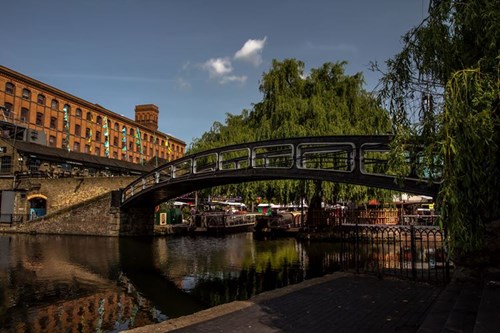 When you put the Holiday Inn Camden Lock down as your destination, delegates will thank you for choosing this London location because it has transport links to London's airports and international rail services.
The North London hotel offers contemporary meeting rooms. However, it's the hotel's Glasshouse that has views over the lock, which is a real hidden gem! It can comfortably host a reception for up to 350 guests who are sure to enjoy the view. Plus they will know they are in a trendy venue which has a big buzz about it.
De Vere Devonport House
From the vibrant and exciting Camden Town to a London Borough which has an immense maritime history; Greenwich, home to the Cutty Sark, the National Maritime Museum and the old Royal Naval College.
Located at the foot of Greenwich Park among the historic buildings of the former college is De Vere Devonport House. Classified as a UNESCO World Heritage Site, event organisers and meeting bookers are certainly following in the footsteps of admiralty great.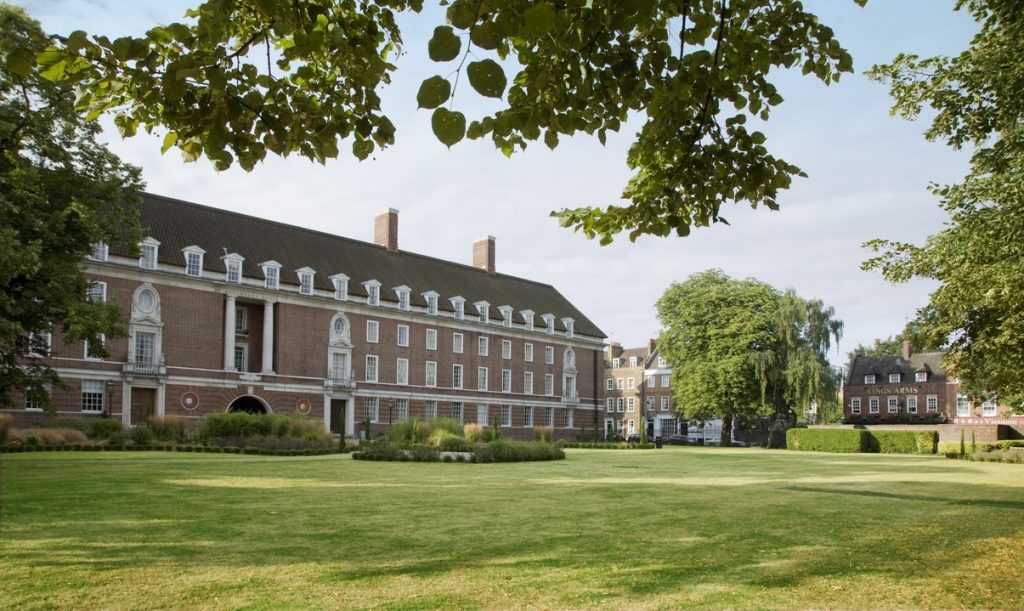 A small cemetery is located in the gardens of De Vere Devonport House where Admiral Hardy who was flag captain to Admiral Lord Nelson is buried. Which such pretty gardens it's no surprise this venue is a popular place for weddings, celebrations, meetings and conferences.
De Vere Devonport House is a London venue to hire which is known for its excellent transport links. Catch the Docklands Light Railway from Greenwich Station and Cutty Sark. Jump on-board the Jubilee line for North Greenwich tube station or take an overland train from Cannon Street and London Bridge. How about encouraging delegates to take the river boat services from Greenwich Pier?
Conclusion
Therefore, when you want to find a venue or hotel in London for a meeting, conference or corporate celebration, remember that you don't have to compromise on the view. London parks, historic buildings, the famous river and redeveloped docks all combine to create some of the country's most inspirational views.
For more ideas on London hotels for an event, conference or meeting read our post on the 5 most inspiring meeting rooms in London.